The arrest of four Sun journalists threatens to open a fresh phase of the scandal surrounding News International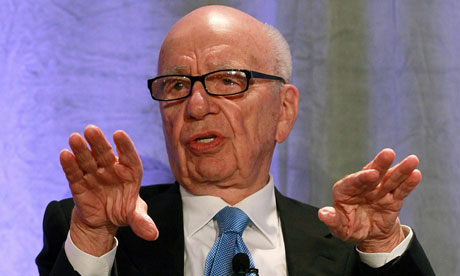 On Saturday morning, the
police
arrested four journalists who have worked for
Rupert Murdoch
.

For a while, it looked as though these were yet more arrests of people related to the
News of the World
but then it became clear that this was something much more significant.
This may be the moment when the scandal that closed the NoW finally started to pose a potential threat to at least one of Murdoch's three other UK newspaper titles:
the Sun
, the Times and the Sunday Times.
The four men arrested on Saturday are not linked to the NoW. They come from the Sun, from the top of the tree – the current head of news and his crime editor, the former managing editor and deputy editor.
Nothing is certain. No one has been convicted of anything. The four who were arrested on Saturday – like the 25 others before them – have not even been charged with any offence. But behind the scenes, something very significant has changed at
News International
.
Under enormous legal and political pressure, Murdoch has ordered that the police be given everything they need.
Whereas Scotland Yard began their inquiry a year ago with nothing much more than the heap of scruffy paperwork seized from the NoW's private investigator, Glenn Mulcaire, Murdoch's Management and Standards Committee has now handed them what may be the largest cache of evidence ever gathered by a police operation in this country, including the material that led to Saturday's arrests.
They have access to a mass of internal paperwork – invoices, reporters' expense claims, accounts, bank records, phone records.
And technicians have retrieved an enormous reservoir of material from News International's central computer servers, including one particularly vast collection that may yet prove to be the stick that breaks the media mogul's back.
It is known as Data Pool 3.
It contains several hundred million emails sent and received over the years by employees of the News of the World – and of the three other Murdoch titles.
Data Pool 3 is so big that the police are not even attempting to read every message. Instead, there are two teams searching it for key words: a detective sergeant with five detective constables from Scotland Yard working secretly on criminal leads; and 32 civilians working for the Management and Standards Committee, providing information for the civil actions brought by public figures and for the
Leveson inquiry
and passing relevant material to police....

read more
http://www.guardian.co.uk/media/2012/jan/29/data-pool-3-sun-arrests-murdoch