Rupert Murdoch has told News International employees that he intends to launch the Sun on Sunday "very soon".
In an email sent to staff in London Murdoch sets out plans to replace the News of the World which was axed in the wake of the phone hacking scandal.
Murdoch also lifted the suspensions of all arrested Sun employees who have not been charged "pending police investigations".
He added that despite the move "we cannot protect people who have paid public officials".
"Our duty is to expand one of the world's most widely read newspapers and reach even more people than ever before," Murdoch said in the email, it was
reported on Twitter.
"I am confident we will get through this together and emerge stronger."
He added: "Having a winning paper is the best answer to our critics."
Murdoch says he now plans to stay in London "for the next few weeks" to help The Sun get through the crisis which has threatened the future of the country's most popular newspaper.
MURDOCH'S EMAIL TO STAFF: Read the full text below
Reaction to the news was swift, with Neville Thurlbeck, the former News of the World chief reporter, tweeting:
@nthurlbeck

Neville Thurlbeck
I'm v v happy for John Kay and the boys at the Sun. Stay steady and KBO.
Murdoch left his Mayfair home and made his way to The Sun's offices on Friday amid anger at the paper over News Corporation's decision to hand over information that led to the arrests.
He arrived at the Wapping HQ in a chauffeur-driven silver Range Rover clasping a copy of The Sun and beaming at the waiting photographers.
His trip to the UK follows growing disquiet over News Corp's Management Standards Committee (MSC) - formed to clean up the company following the phone hacking scandal - which passed evidence to police before officers swooped on a number of homes.
The Guardian quoted one News International employee
who said Murdoch had to do more than simply "reassure" staff
:
"If all he does is say to staff that he is still committed to the Sun, it won't be enough," the employee
quoted by the Guardian said
.

"People are furious with the MSC. What they did was extraordinary and maybe illegal."
Ten current and former senior reporters and executives at the tabloid have been arrested since November over alleged corrupt payments to public officials.
Five Sun journalists - including the deputy editor, picture editor and chief reporter - were held for questioning by Scotland Yard officers on Saturday on suspicion of making improper payments to police and other public officials. They have all been bailed...read more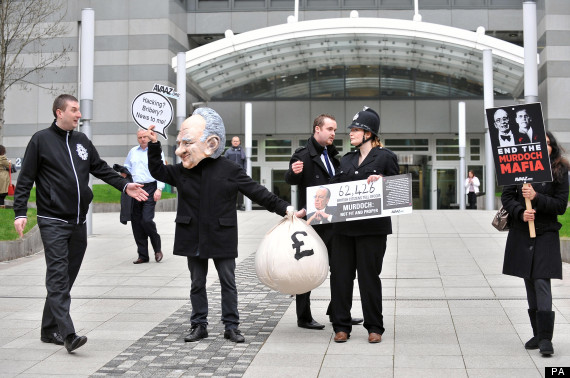 Above: protesters from Avaaz are asked to leave Thomas More Square
http://www.huffingtonpost.co.uk/2012/02/17/sun-on-sunday-to-be-launched-very-soon_n_1284153.html?ref=uk&ncid=edlinkusaolp00000008