The schools crusade that links Michael Gove to Rupert Murdoch
The education secretary has close ties to Murdoch and would be a key figure if he attempts to move into the UK schools market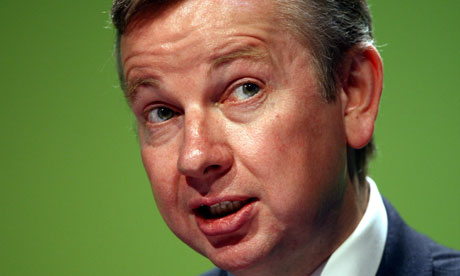 On a freezing November day in 2010, the education secretary,
Michael Gove
, turned out in east London to inspect a desolate stretch of dockside ground near City airport, where
Rupert Murdoch
had offered to build an academy school.
The cabinet minister was accompanied by Rebekah Brooks, then News International chief executive, and an entourage of other top Murdoch staff, including James Harding and Will Lewis.
Despite the unprepossessing venue there was no mistaking the company's enthusiasm for the project. Murdoch described himself in a speech as the saviour of British education, thanks to his company's "adoption of new academies here in London".
It was a high-water mark of the love-in between Gove, Murdoch and the Conservative government. Gove, a former Times journalist, had previously gone out of his way to flatter his own proprietor, writing that Murdoch "encourages … free-thinking".
Shortly after the Docklands visit, the phone-hacking scandal disrupted these close relations. News International's proposed academy was quietly abandoned. Newham council says nothing was subsequently done to fulfil Murdoch's promises.
But Gove returned to his pro-Murdoch theme last week, publicly attacking the Leveson inquiry, set up in the wake of News International's misdeeds, as a threat to press freedom. "Whenever anyone sets up a new newspaper – as Rupert Murdoch has with the Sun on Sunday – they should be applauded and not criticised," he said.
It was a reminder of the extraordinarily close links that still exist between publishing tycoon and Tory politician. One of Murdoch's long-term projects is what he calls a "revolutionary and profitable" move by his media companies into online education. Gove would be a key figure in any attempt to penetrate the British
schools
market.
The education secretary meets Murdoch frequently and is an enthusiastic backer of the ideas of Joel Klein, the head of Murdoch's new education division. Within a week of his promotion in 2010, the minister was at dinner with Murdoch, according to officially released details of meetings.
The atmosphere could only have been warm. Gove once sang Murdoch's praises in a 1999 Times column as "the greatest godfather of mischief in print" who possesses "18th-century pamphleteering vigour". He wrote that Murdoch "encourages … free thinking. His newspapers … are driven by public demand and the creativity of chaotic, cock-snooking, individuals."
Murdoch in turn was kind to his former employee. When Gove first arrived at Westminster in 2005 as a backbench MP, the Times topped up his salary with a £60,000-a-year column. His wife still works for the paper.
Murdoch's publishing arm, HarperCollins, also gave Gove a book advance in 2004, when he was first selected for the safe Conservative seat of Surrey Heath. It was for a history of an obscure 18th-century politician, Viscount Bolingbroke.
Puzzlingly, the book was never delivered. HarperCollins refuses to disclose the size of the advance and its size is not specified in Gove's register of financial interests. Asked if his advance should be returned eight years later, HarperCollins says Gove "is still committed to writing a book on Bolingbroke but obviously his ministerial duties come first for now". Gove will not comment....read more
http://www.guardian.co.uk/politics/2012/feb/26/schools-crusade-gove-murdoch?CMP=twt_gu