Former News International chief, husband Charlie and four others are charged with conspiracy to pervert course of justice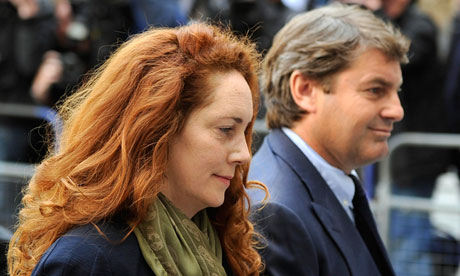 The former chief executive of News International, Rebekah Brooks, and her husband, Charlie, have appeared at Westminster magistrates court on charges of conspiracy to pervert the course of justice by allegedly concealing evidence from the police.
Brooks arrived with her husband in a black cab outside the court shortly before 10am. The entrance was flanked with photographers and television crews, and as Brooks was led by police to the doors of the court cameras flashed repeatedly.
Wearing matching navy blue suits – Rebekah Brooks's distinguished by a flash of a sage green scarf and high-heeled black shoes – the couple appeared in court one shortly afterwards, where the benches were filled with lawyers representing the six defendants, the press and a few members of the public.
She was led into the glass-fronted dock with her husband and sat flanked by him on one side and Cheryl Carter, her former personal assistant, on the other.
Alongside Carter sat Paul Edwards, Brooks's former chauffeur, and Mark Hanna, the head of security at News International, and behind the five was Darryl Jorsling, who was a security consultant for Brooks provided by News International.
The former News International chief executive, who has edited both the News of the World and the Sun, was asked to stand by the court clerk along with the five other defendants. The six were asked to give their addresses and dates of birth before being asked to sit.
Brooks is charged with three counts of conspiracy to pervert the course of justice by allegedly hiding material from police investigating phone hacking at the News of the World. The other five defendants face one charge of conspiracy to pervert the course of justice.
Nigel Pilkington for the crown said: "I don't propose to say anything about the facts. The court was served with a summary of the case."
Senior district judge Howard Riddle said he had received the summary and Pilkington read out bail conditions for the five. They were all told not to communicate directly or indirectly with each other – except for Charlie and Rebekah Brooks, on whom no such ban on communication as a couple was imposed. No plea was entered by any of the six.
After a hearing lasting no more than five minutes Riddle addressed the six defendants.
"Could I ask you to stand?" he said. "Your case is sent for trial at Southwark crown court. The first hearing will be on 22 June. You should be there no later than 9.30am.
"You have heard the bail conditions read out … If you don't turn up on time you commit an offence and could lose your bail."
Riddle then adjourned the hearing, stood and walked out. A few minutes later, to shouts from photographers of "Rebekah, Rebekah", a smiling Brooks and her husband walked out of the court – him with his hands in his pockets. They got into a black cab and were driven away.
Brooks is charged on count one that between 6 July and 19 July 2011 she conspired with Charles Brooks, Hanna, Edwards, Jorsling and persons unknown to conceal material from officers of the Metropolitan police service.
On count two she is charged with Carter between 6 July and 9 July 2011 of conspiring together to permanently remove seven boxes of material from the archive of News International. In the third count Brooks is charged with her husband, Hanna, Edwards and Jorsling and persons unknown of conspiring together between 15 July and 19 July 2011 to conceal documents, computers and other electronic equipment from officers of the Metropolitan police service.
The other five defendants face one charge of conspiracy to pervert the course of justice each.