Last updated three minutes ago
CPS to examine recent allegations as David Cameron faces renewed pressure over close links to Murdoch
Rupert Murdoch flies in to UK as News Corp stays silent on phone hacking
Company not divulging what tycoon's son James was told when he signed off £700,000 payment to football chief Gordon Taylor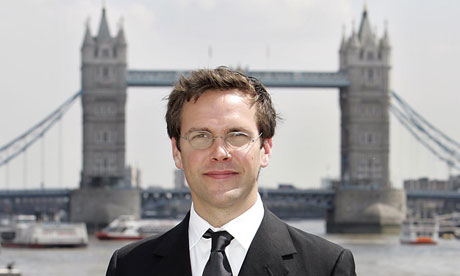 The company declined to comment on any of the of questions asked by the Guardian about which board members were made aware of the fact that the practice of phone hacking extended beyond the former royal editor Clive Goodman, and the reasons for payouts to Taylor and the public relations specialist Max Clifford.
News Corp also refused to reply to further questions about what was discussed at a social meeting between David Cameron,
James Murdoch
and its UK chief executive, Rebekah Brooks, over the Christmas period.
Rupert Murdoch today spent the day at News International's Wapping offices in east
London
, where he had lunch in the company canteen with his son, Brooks, Dominic Mohan,

the editor of the Sun, and James Harding, the editor of the Times.
There has so far been no explanation as to why James Murdoch, the chief executive of News Corp's operations in Europe and Asia, decided to sign off the payment to Taylor. One friend of Rupert Murdoch's younger son said he had failed to appreciate the significance of the hacking allegations until recently.
The source said: "He had been slow to get on top of the issue until recently, because he's been so focused on getting News Corp's bid for Sky through. He's now done so, but the problem is that it's a bit late."
Back in 2009 Colin Myler, then editor of the NoW, told MPs on the culture, media and sport select committee that it was James Murdoch who had agreed to settle in the Taylor case, on the advice of himself, the newspaper's chief lawyer, Tom Crone, and their legal team.
At the time Myler said: "Mr Crone advised me, as the editor, what the legal advice was and it was to settle. Myself and Mr Crone then went to see James Murdoch and told him where we were with the situation. Mr Crone then continued with our outside lawyers the negotiation with Mr Taylor. Eventually a settlement was agreed. That was it."
There has been internal criticism of James Murdoch's handling of the row, with a second source close to the company asking why he thought it wise to attend the Cameron dinner at a time when his presence would invite controversy, given that News Corp is trying to win political approval for its £8bn bid for Sky in the teeth of opposition from rival
newspapers
including the owners of the Daily Mail, the Daily Mirror and the Guardian.
Key News Corporation players
Executive
Rupert Murdoch, chairman and chief executive (CEO); Chase Carey, News Corp; David DeVoe, chief financial officer; James Murdoch, chairman and CEO, Europe and Asia; Joel Klein, executive vice-president
Non-executive
José María Aznar, former prime minister of Spain; Natalie Bancroft, singer, Bancroft family represntative; Peter Barnes, chairman, Ansell; Kenneth Cowley, chairman, RM Williams Holdings; Viet Dinh, professor of law, Georgetown University; Rod Eddington, former BA CEO, now at JP Morgan; Andrew Knight, chairman, J Rothschild Capital Management Ltd; Lachlan Murdoch, executive chairman, Illyria; Thomas J Perkins, partner, Kleiner, Perkins, Caufield & Byers; John L Thornton, professor and director of Global Leadership, Tsinghua, University of Beijing; Stanley S Shuman (director emeritus), managing director, Allen & Company; Arthur Siskind, senior adviser to the chairman