Steven Nott

Steven Nott, a sales manager from Wales and Vodafone subscriber claims he tried to raise the alarm about the insecure voice mail system on the company's mobiles phones back in 1999. He went to the authorities and then took his story to the Daily Mirror when Piers Morgan was editor and claims he was told by one of the senior editorial staff that it was a huge story. When they didn't publish it, he went to the Sun. He also informed Scotland Yard, the Home Office and the then department of trade and industry and says he never heard back from any of them.
The first witness is Steven Nott, the sales manager from Wales.
The running order for today is: Nott, Charlotte Harris, David Leigh and then Chris Atkins.
Nott is now telling Leveson how he discovered his mobile phone voicemail system was insecure.
In 1999 Nott discovered that it was very easy to access people's Vodafone voicemail accounts. He says he used to have customers leaving messages on his phone while he was a delivery driver in south Wales.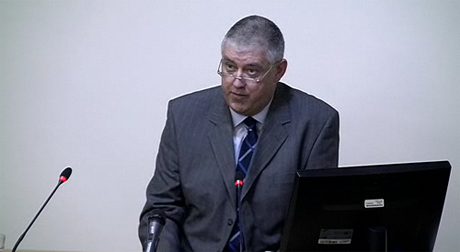 Nott says he was told by a Vodafone customer services staffer that he could access his own voicemail from another phone, and went on to tell him how to call his own phone, enter the default code. He didn't know the phone had a default code and it was explained that all phones had the same one.
He told the person in customer service that that means he could call anyone's voicemail.
"Yes you can, but you're not supposed to," he was told.
Nott says he kept being "fobbed off" by mobile phone companies when he tried to point out this vulnerability with voicemail interception.
He thought it should come out in the press and then phoned Oonagh Blackman at the Daily Mirror. She tried it out on a number of phones, adding that he was given the impression that a story would be published on it.
He was paid £100 for his tip but the story didn't appear.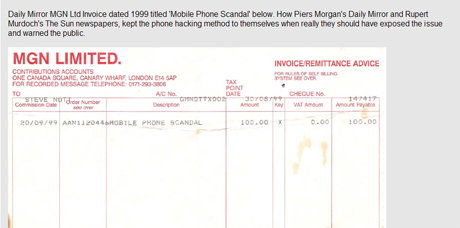 Blackman then told Nott she was no longer interested in it but gave no explanation, Nott says.
He adds that Blackman threatened him with court action if he told anyone that he had given them this information. He claims to have received £100 from the Mirror for the story, which was never published.
He then went to Paul Crosbie on the Sun. The Sun didn't publish the story either.
Crosbie, allegedly told Nott that it was "a good story and he couldn't see why it wasn't published".
Nott says he informed New Scotland Yard about the vulnerability, but that they haven't replied.
He then wrote to the Department of Trade and Industry, the Home Office, M15 and the National Council for Civil Liberties.
He then contacted the Orange telephone network and Chris Choi, the consumer affairs correspondent at ITN.
He interviewed him on camera, but the film was not broadcast.
Nott was told he was told to stop asking when he asked ITN why the film never appeared.
Nott, ever persistent, went to BBC Radio 5 Live. They broadcast a short story in 1999.
He recently tried to obtain a copy of the broadcast recently.
The BBC couldn't find the broadcast, but did issue him with a copy of the transcript.
He was also interviewed by the BBC's Blue Peter - that wasn't broadcast either.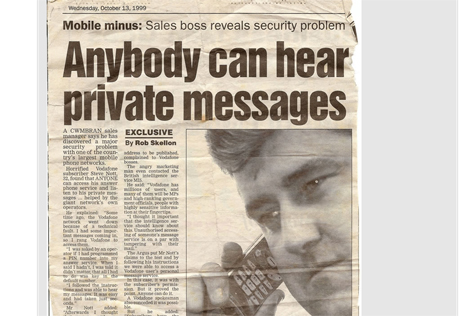 The South Wales Argus did however go for the story, Nott tells David Barr, QC for the inquiry.
David Barr reads out some of the story:
Horrified, Vodafone Steven Nott, 32, found ANYONE can access his answer phone service and listen to his private messages ... helped by the giant network's own operators.




...The Argus put Mr Nott's claims to the test and by following his instructions, we were able to access a Vodafone user's personal message service.




In this case, it was with the subscriber's permission. But it proved the point. Anyone can do it.