'Many tens of thousands' of items discovered by News of the World publisher that could contain evidence of phone hacking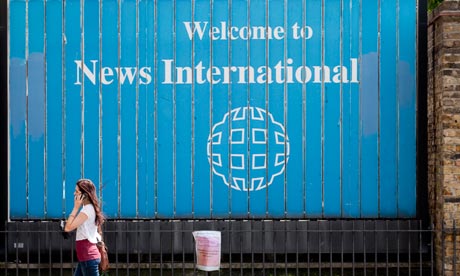 The publisher of the
News of the World
has found "many tens of thousands" of new documents and emails that could contain evidence about the scale of phone hacking at the paper, it has emerged.
News International
subsidiary News Group
Newspapers
' barrister Michael Silverleaf QC told the high court at a pre-trial hearing on Tuesday: "Two very large new caches of documents have been [discovered] which the current management were unaware of."
NGN was ordered in the summer to search its internal email system for any evidence that mobile phones belonging to a list of public figures were targeted by the paper.
That search has not been completed, but some documents have already been retrieved, the high court heard. Referring to the emails that NGN has been searching through, Mr Justice Vos told the high court that "there is some important material in what has already been disclosed".
It also emerged today that lawyers acting for phone-hacking claimants have been a handed a 68-page document by police which lists the names of those who asked Mulcaire to engage in hacking, based on notes seized from the home of private investigator Glenn Mulcaire in a 2006 raid.
Mulcaire had a habit of noting the names of people who asked him to target mobile phones in the left-hand corner of his notebooks, often using their initials or first name to denote their identity.
The document cannot be made public because Vos has previously ordered that they remain confidential so the police inquiry into phone-hacking is not compromised. The fact the document compiled by Scotland Yard runs to 68 pages suggests it contains many names, however.
Mr Justice Vos also gave NGN longer to comply with the earlier order requiring the company to hand over potential evidence to phone-hacking litigants. It must now do so by 30 September.
NGN has previously said last year that it had lost some emails from the period when Glenn Mulcaire was most active, but subsequently said they had been found.
However, the Commons home affairs select committee was told last week by HCL, which managed the IT systems of NGN's ultimate parent company News Corp, that its client had asked it to to delete hundreds of thousands of emails on 13 occasions from April 2010 to July this year.
It also emerged today that Glenn Mulcaire, the private investigator who worked for the paper, has told one alleged phone-hacking victim, Liberal Democrat MP Simon Hughes, that he cannot remember who at the paper ordered him to target the politician's phone.
Hughes launched legal action against the paper's publisher in August and won a high court order forcing Mulcaire to answer questions about who asked him to target his phone.
Although Mulcaire has now complied with that order, Hugh Tomlinson QC, one of the barristers acting for the phone-hacking victims, told the court today: "Mr Mulcaire has indicated in respect of every question raised that he has no recollection."
http://www.guardian.co.uk/media/2011/sep/13/phone-hacking-news-international-documents