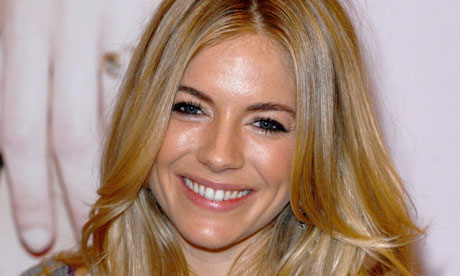 Actor
Sienna Miller
accepted £100,000 compensation from
News of the World
on Friday after the paper accepted unconditional liability for all her phone-hacking claims.
The unexpected agreement came midway through a high court battle with the paper. Miller is the first celebrity to settle their claim since the tabloid, part of Rupert Murdoch's News Group
Newspapers
(NGN), admitted hacking the phones of several public figures last month.
The settlement is the highest privacy award to date. NGN will also be paying the actor's legal costs.
Michael Silverleaf QC, NGN's barrister, previously claimed that Miller's case could result in £400,000 in damages. He told the court that this would be a "ludicrous" sum.
Separately, it emerged on Friday that James Hewitt, the former army officer who became famous for his affair with Princess Diana, is poised to sue the paper for invasion of privacy.
Hewitt will issue proceedings next week after the Metropolitan poilce showed him evidence that suggests he may have been targeted by Glenn Mulcaire, the private investigator who was jailed for hacking into mobile phone voicemail messages in 2007.
Hewitt's lawyer, Charlotte Harris of Mishcon de Reya, confirmed that her client is poised to begin action against the paper: "He's had his meeting with the police, we're satisfied he has a strong case and we will be issuing legal proceedings next week."
Miller's legal team has previously insisted that she was not concerned with the financial aspect of the settlement. "The crucial point in our view is to know the extent of the wrongdoing," Hugh Tomlinson QC, Miller's barrister said in court yesterday.
He added that she had made the last-minute agreement "precisely because all her claims have been admitted [comprising] misuse of private information, breach of confidence, publication of articles derived from voicemail hacking and a course of conduct of harassment over a period of 12 months as resulting from all that.
"Her primary concern is not how much money is rewarded by way of compensation but what the extent was of the hacking that took place," he said.
"What she wants is to have is disclosure and proper answers from the News of the World as to what took place so she can have effective non-monetary relief and can be properly compensated," Tomlinson said.
Silverleaf told the high court that the story about her troubled relationship with fellow actor Jude Law, which was published after her voicemail was hacked was merely "hurtful" to the 29-year-old celebrity.
He said £100,000 was fair because it was more than what she would receive if she had suffered a "life-changing experience" such as the loss of an eye or facial scarring.
"What she wants is a public inquiry that goes beyond what the remedy in civil law provides," Silverleaf added. "The complainant's career, reputation or life has not been affected in the long term. She said she was upset at the time. She does not suggest she suffered any long-term harm, there is no suggestion in the pleading."
At least 24 breach of privacy claims have now been lodged against the News of the World by celebrities.
They all believe their mobile phone voicemails were eavesdropped using stolen information such as pin codes obtained by Mulcaire.
The newspaper has admitted hacking at least eight public figures' voicemails.
Rupert Murdoch's
News International
announced last month it was setting up a £20m compensation fund.
A News International spokeswoman said: "We are pleased that we have managed to bring this case to a satisfactory conclusion. Several weeks ago we admitted liability in certain cases and offered a genuine and unreserved apology. We hope to resolve other cases swiftly.
"For the record, reports that we have been ordered to disclose 8,000 emails to Ms Miller are inaccurate. The error stems from a reference in court to the fact that a total of 8,0f00 emails were being searched to ascertain whether any Sienna Miller related material was amongst them."
A statement from both Miller and NGN will be read to the court at a hearing next Friday.