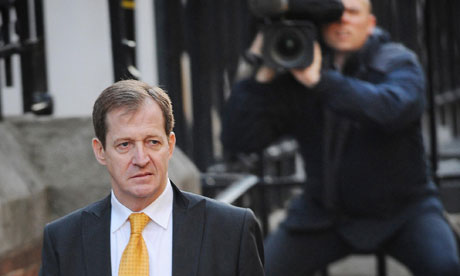 A former official in charge of investigating potential breaches of privacy by
newspapers
for the information commissioner told the
Leveson inquiry
that he was ordered to back off because the newspaper groups were "too big" to take on.
That was despite his uncovering a cache of documents showing thousands of ex-directory telephone numbers were being obtained on behalf of journalists. The numbers included those of the parents of
Milly Dowler
,

and well as those of Charlotte Church and Sara Payne.
Alex Owens, who had spent 30 years in the police force, said every newspaper apart from the "Dandy and the Beano" was named in the documents uncovered as part of the Operation Motorman investigation in the early part of the last decade.
Evidence of the illegal access of private data was recovered in a raid on the Hampshire home of private investigator Steve Whittamore on 8 March 2003, the inquiry heard. In four notebooks, coloured blue, red, green and yellow, Whittamore had documented 17,000 to 17,500 requests for confidential data ranging from criminal records; to car ownership details to ex-directory telephone numbers.
Giving evidence, Owens said "the names of people like Milly Dower's number, ex-directory numbers and that sort of thing" all appeared and he questioned why no-one saw fit to pursue it, given what is now known about phone hacking.
Whittamore's paperwork named the reporter and the newspaper for every journalist's request, who they worked for and details of the "blaggers" who got the information from official sources on his behalf. None of those journalist's names have ever been published.
"We were in a position to prosecute everyone in the chain from the 'blagger' right up the journalists and possibly even the newspaper groups," Owens said.
He told Leveson how he went to the head of the Information Commissioner's Office (ICO) Richard Thomas and his deputy Francis Aldhouse to report his findings. "It was at this point Francis Aldhouse [former deputy head of the ICO], with a shocked look on his face, said 'we can't take the press on, they are too big for us'," Owens said.
"Richard Thomas did not respond. He merely looked straight ahead appearing to be somewhat bemused by the course of action I was recommending. For my own part I remember thinking 'It's our job to take them on or indeed anyone else on, that's what we are paid to do. If we do not do it then who does?"
He blamed "fear" at the ICO and said his bosses "had drawn a red line" between press and the reporters at the top and "the private investigators, the little blaggers and the corrupt people" below who they were allowed to investigate.
Owens says he decided to go public and potentially face prosecution because he believed it was in the public interest. He denied his evidence was "unreliable" because he had lodged a "grievance" against the ICO.
Owens told reporters outside the hearing that he and his co-investigator had planned to concentrate on about 20 to 30 of the worst offenders in the list of 305 journalists in Whittamore's notebooks but no journalists were ever contacted. "We weren't allowed to ask the press why did you want it [confidential information]?" said Owens. This decision to stop the investigation at such an early stage would "never ever happen" in the police, he said.
His allegations came on the day that:
• Detectives investigating phone hacking at
News International
arrested a 31-year-old woman, believed to be Bethany Usher, a former journalist who had bylines in two Sunday newspapers in 2005-08.
• And, also at the
Leveson Inquiry
,

a lawyer for phone-hacking victims accused Rupert Murdoch's News International of trying to "destroy" his life....read more
http://www.guardian.co.uk/media/2011/nov/30/leveson-inquiry-dowler-phone-hacking?newsfeed=true