• Alastair Campbell alleges that the Daily Mirror paid private eyes to investigate him and Peter Mandelson
• He describes a 'frankly putrid' press with some sections 'barely worth defending'
• The PCC has failed because it is 'of the press and for the press', Campbell claims
• He suggests an arbitration body to replace the PCC that could advise on public interest
This page will update automatically every minute:

On

| Off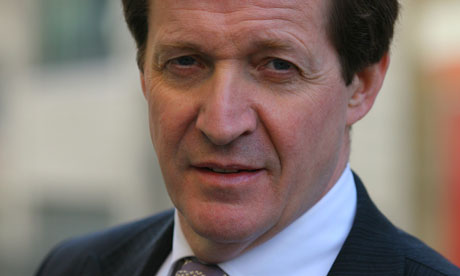 Owens says he walked out – "I'd had enough" – in September 2006 because of subsequent grievances, one of which was how

Operation Motorman

was conducted.
"Motorman didn't prompt it, it was just another example of what followed," he says, adding that the ICO was becoming "office detectices – you can ring them but you don't get to see them".
The information commissioner, Richard Thomas, just looked bemused and said thanks, Owens claims, adding that another senior ICO officer present, called Francis Aldhouse, indicated that they couldn't take on the newspapers because "they were too big for us".
He says:
We could identify the newspaper, the journalist, Whittamore, who he used, the blaggers, the corrupt people, and we had a paper chain right the way up and down.
Within a short time the investigators were led to Steve Whittamore, who was convicted in 2005 of illegally accessing data and passing it to journalists.
Owens is describing the search of Whittamore's home on 8 March 2003 by ICO officers. They obtained criminal record checks, ex-directory telephone numbers, mobile phone numbers, vehicle registration checks and telephone conversions.
Whittamore "didn't say anything formally but indicated he wouldn't deny his wrongdoing. But please don't ask him anything about the press because he's not going to say anything about them," says Owens.
Robert Jay QC is straight into asking about Operation Motorman in 2002.
Owens says he accompanied Devon and Cornwall police on an investigation into payments to police by Data Research, a firm based in south London.
Owens says he found a "couple of bundles of documents" that contained vehicle registration details and their owners' details, which were traced back to one DVLA employee ("a corrupt source") who had researched the information. This DVLA employee was immediately suspended.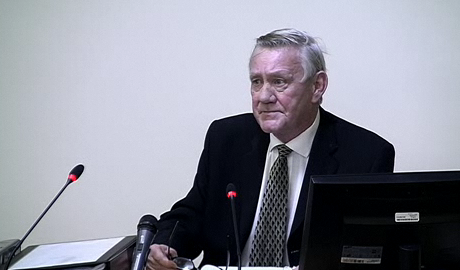 Lord Justice Leveson

says he doesn't want this debate – which has dragged on since last week – to become "totemic". He is reluctant to make a finding of fact "because I can't start to go into that sort of territory".
Associated Newspapers says it is prepared "for the moment" to remove the phrase "mendacious smear" from the Daily Mail website before evidence to support (and contest) the statement can be called.
Caplan says Associated Newspapers categorically denies that it has ever hacked phones.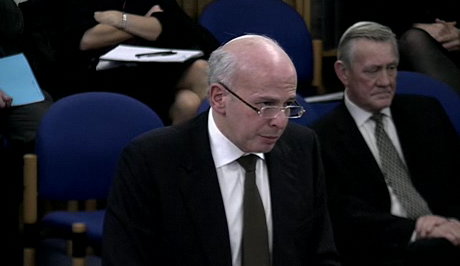 Alec Owens

, a retired policeman with 30 years experience, was the lead investigator at the information commissioner's office when it conducted Operation Motorman, a 2003 investigation into the use of illegally-obtained information by newspapers which resulted in the arrest and imprisonment of former private investigator Steve Whittamore. He was questioned by police over alleged leaks to newspapers earlier in November. Both Owen and Thomas are likely to be asked about those claims when they give evidence.
Why isn't @Leveson paying @Guido's legal fees? He sumoned him and I don't think guido's as wealthy as the celebs who are getting expenses.
The Paul McMullan testimony just hit US TV - the hosts were literally stunned into head-shaking silence. "Who is this creep?"
• Alastair Campbell alleges that the Daily Mirror paid private eyes to investigate him and Peter Mandelson
• He describes a "frankly putrid" press with some sections "barely worth defending"
• The PCC has failed because it is "of the press and for the press", Campbell claims
• He suggests an arbitration body to replace the PCC that could advise on public interest
Jay also says that Richard Thomas, the former information commissioner, is currently ill and he too may not be able to appear tomorrow.
Alec Owens, the lead investigator on the ICO's Operation Motorman report in 2003, is back at 2pm. We'll be back with a summary shortly.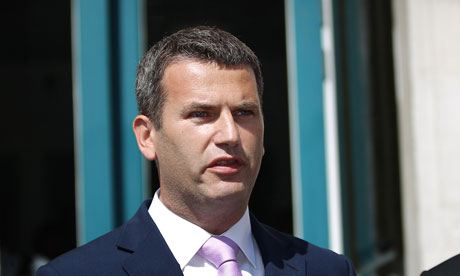 He adds:
If you get the newspaper regulation right, I think that will have an impact on the internet as it develops. There may come a point where you have to apply some standards that can apply to the internet as well. It surely won't be that long until there's a defamation case over something that is said on Twitter. Get that right and some of the other stuff ought to fall into place.
And with a final flurry on the culture of the press – much of which he said earlier this morning – Campbell's evidence is drawing to a close.
Lord Justice Leveson

has time for one last question, it's on the internet and journalism.
Campbell says "you're right to worry about it" but that we're at a stage where TV and newspapers are still the most dominant forces in the debate. He says if there was a system of regulation that drives standards up in traditional media, then standards will rise online.
In an odd segue, Campbell is now being asked about gifts and favours from PRs to journalists and on nepotism. He doesn't touch on nepotism and says that Richard Peppiatt, the ex-Daily Star reporter, said all there is to say on journalists receiving gifts. (Peppiatt said he'd been on four holidays in two years courtesy of PRs).
Campbell suggests that the new body should have an annual report which would analyse that year's behaviour of each national paper. He suggests a league table of papers ranked on how closely they have adhered to the code.
He is now asking that media barons be participants in the countries in which they wield the most power, mentioning

Rupert Murdoch

("opaque tax structures around the world"),

Lord Rothermere

and the

Barclay brothers

("non-doms").
He says:
"Senior newspapers and editors now they are players, rather than spectators. It's a pretty unaccountable form of power, but it is a form of power."
He says he agreed with a lot of what

Nick Davies

said about this yesterday, which may add credence to Davies' claim that very few journalists endorse his views.
"This should not be seen as a one way drive against the press. I think existing case law works against the public and the press," he says, mentioning laws on confidentiality and defamation.
He suggests an arbitrary body – like the Nick Davies example – that journalists and members of the press could go to and take advice on public interest justifications. "I don't think that would be that hard to set up," he says.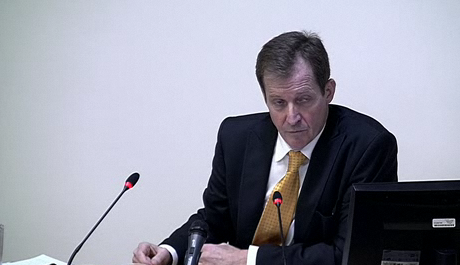 He is now talking about a series of contentious stories that claimed Tony Blair was seeking to "muscle in" on the Queen Mother's funeral. He claims the PCC asked him not to put them in a position "where they had to make a judgment".
Campbell says the PCC should be able to step in and say 'hold on a minute, here's the code and here's where you're breaking it' with developing news stories, like the search for Madeleine McCann.
He accepts that the PCC has difficult judgments to make and that it does some things well, but that ultimately it has struggled.
Campbell says:
They were trying to keep us happy as the government; they were trying to keep the media barons happy; and they were fixing between the two ... I think at the national level it was much more on these meta issues which I think they handled very very badly.
He adds that any replacement body should be set up by parliament but there should be no political or media interests on it.
The PCC has struggled because it cannot adequetly investigate; because its chairs are "political fixers"; because it cannot take third-party complaints; and because it is funded by the press, Campbell says.
He says there should be "no live media figures" on whichever body replaces the PCC to avoid it becoming "a vested interest".
He then claims that Dacre had a team of people pretending to write a book on Campbell because the Daily Express was running a rival serialisation.
The FT reports:
Jonathan Shalit, Ms Church's manager until 2000, told the Financial Times that the proposal had come in a "very relaxed" call from Mr Freud, but that no payment had been offered. The promise of favourable coverage was explicit, he said, "but done in a warm, friendly, positive way. There was nothing sinister about it.




"In return, it was understood the Murdoch publications would support Charlotte in the US," Mr Shalit said. "In the same way a plumber might do a favour for an accountant and the accountant might do a favour in return, I think it's totally acceptable business practice. That's life," he added.
"Let's just see where the evidence leads," he says, adding:
All I will say is that in relation to all of us who were in government at that time, all sorts of stuff got out ... You'd just sit there scratching your head thinking how did that get out? Given what we know now I have revised my opinion in several regards as to how stuff may have got out.
He says: "If he can state that confidently to a House of Lords committee, he ought to be able to answer for every single transaction. And if he cannot do that he cannot substantiate that statement to a House of Lords committee."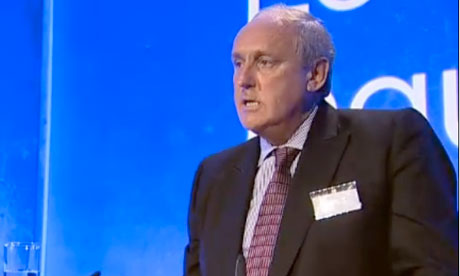 He is talking about Operation Motorman, the ICO investigation into use of PIs by newspapers, and claims that that report showed that use of private investigators was a "growth industry".
He adds:
We don't know as we read a newspaper any morning of the week the extent to which they've come from private investigators ... or if those private investigators have broken the law ... or if the newspapers know that they have broken the law.
Campbell claims that editors would "certainly" know if more and more money was being spent on private investigators.
He says:
I would echo something that Nick Davies said yesterday. On all of these there are difficult judgments. But if you go on ... Kate Middleton's uncle ... Michael Phelps ... Joe Calzaghe ... Wayne Rooney ... I don't think we should buy this line that the NoW put out at the time of its closure that they were some great campaigning organ that was changing the world for the better
He's now being asked about phone hacking. He says he's been shown references to him in Glenn Mulcaire's notes, and adds that he's been visited by officers from Operation Tuleta, just explaining that they were looking into computer hacking.
He says he has been told that

the Mirror

paid private investigators to look at him, a member of his family and Peter Mandelson.
The novel idea was drapped after ministers protested, Campbell claims: "I wish we had have carried it on. I thought we were doing a public service."
Here's the section of Paxman's speech he's talking about:
By and large, the response to Blair's attack just pressed the F12 key. Yah booh. You're a politician. We're media yahoos. Get over it. Of course, the attack all seemed a bit rich, coming from a government which took the media more seriously – and tried to control it more effectively – than any previous administration. I remember once being in Number Eleven Downing Street waiting to do an interview with Gordon Brown, and a side door from Number 12 opening. In previous governments, Number Twelve was where the Chief Whip had his office. Now, as it swung back I was astonished to see the place had been taken over by what seemed to be a fibre-optic version of a Victorian counting house - a squad of young people sitting at rows of desks, on the phone bending the ears of journalists. At the top – can he really have been sitting at a higher desk? - that's certainly how I think I remember it – sat the brooding figure of Alastair Campbell. The scene showed how thoroughly priorities had changed: where once government used the room to control and discipline its MP's in parliament it now used it to try something similar with the media.
"Something has to be done," says Campbell. "I don't see how any reasonable person can disagree with that."
He adds that part of the judgment from Blair would have been broadly "the press don't give us much of a hard time as they give other Labour governments, which would have been seen as a plus". Campbell thought the the issue had "gone beyond" any political advantage that they might have gained, and urges current parties to tackle the press.
"I think this should be a big issue at the next election," he concludes.
Campbell says Blair had a responsibility to do something about the culture of hte press; Blair said there were other things to do and "there was no appetite for change".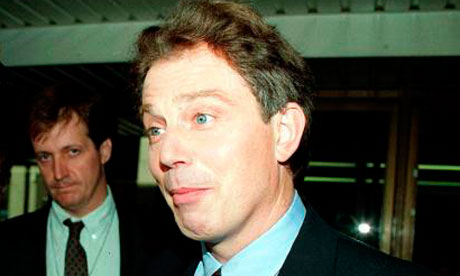 "News is only news if it's bad news for somebody, preferably someone in politics," he says of the Daily Mail.
Campbell thinks this is why newspapers in general have seen falling sales, because they've misunderstood what people want. "People want something better than what they've been given".
He goes on to say that newspapers can be "bad for public health", mentioning the controversy over the MMR jab:
"If there is anybody out there who's child has measles, yes they can blame Mr Wakefield, but they can blame the press too"
Campbell stands his ground and the inquiry moves on.
Campbell pulls a face and calls it "absurd".
He says that journalists often get together after a big political speech and "check their lines", or decide what the news is: "They are the spin doctors. They are the ones deciding what the line is ... The line then gets reported as public opinion."
Campbell's evidence has turned into a whistlestop tour of journalese. He is now deploring the use of anonymous quotes, singling out for criticism the false MailOnline story on the Amanda Knox verdict that apparenetly had invented colour from the courtroom.
Ever since, journalists have suffixed any old story with "gate" he says, going on to mention Nick Davies and proper investigative journalism. There aren't many like Davies in the media nowadays, he says, journalists just aren't given the time or resource. Investigative journalism is "dying", he says.
He says that both sides should take the blame for not recognising what was happening and doing something about it.
"I know they say that and I reject it. I think it's a very very self-serving argument," he says about journalists.
Campbell claims he received threatening messages from News International bosses when he spoke out about phone hacking in 2009.
Campbell witness statement p 53-4 describes what happened when he spoke up in support of original phone hacking story in July 2009
And:
[Campbell] says: "I received a series of ...mildly threatening text and phone messages from senior journalists and executives at News International"
And:
Campbell does not name which executives he received the "mildly threatening" messages from.
So far Campbell has more or less endorsed evidence given yesterday by Richard Peppiatt, the former Daily Star reporter, and Paul McMullan, the ex News of the World deputy features editor.
He suggests that many of the newspaper articles previewing George Osborne's autumn statement will have been made up.
The Daily Mail

is utterly the product of one man, he says. Whatever goes in the paper is decided by Paul Dacre, the editor. Campbell claims that how is testimony is covered by the Daily Mail will have been decided by Dacre long before he took to the witness stand.
Campbell claims that papers blur the line between fact and conjecture so much that it is surely in breach of the PCC's code: "When they are taking a fact and using that to promote that agenda, and it turns out the fact is inaccurate ..."
The first mention of Paul McMullan, whose extreme bravado yesterday will surely be referenced for a long time to come. Campbell says McMullan is "brutally honest" about what the public want, but that what newspapers cover is more multi-faceted than he suggested.
"There's no transparency about the journalistic practices that they use to fill their papers," he says.
"The public out there are horrified by what they've heard in the last two weeks ... my argument this is not atypical. This is what happens to anybody who they decide is a major news commodity".
Now talking about public figures on the scale of Princess Diana, Campbell says that some celebrities are so famous that you can newspapers feel they can write what they like about them.
He adds: "There's a danger that the pace of change is so fast that we're even getting left behind now in terms of how we're debating it."
Campbell says regulating journalism and the internet is a very difficult thing to do – mentioning that the French government is looking at it – but that it's worth thinking about.
Campbell says the cumulative effect has been to move "the whole of the media ... substantially downmarket".
There's not many journalists doing journalism "as a craft," he says, and that's had an effect on their "increasing reliance" on private detectives.
News International has declined to comment. Teesside University, where Usher is a senior lecturer in media and journalism, said: "It would be inappropriate to comment on any ongoing police investigation".
Her online biography reads:
"Bethany spent seven years working in the newspaper industry after reading English Literature and Language at the University of Leeds. She quickly progressed from a trainee reporter on the Sunderland Echo to Crime Reporter, after gaining top marks in her NCE senior journalist exams. Bethany then moved to Fleet Street and worked for two of Britain's leading Sunday newspapers. She worked her way up to Northern Editor and gained experience in multimedia journalism. Bethany has won four awards and was named Young Journalist of the Year in 2003."
He says at the moment the press is "frankly putrid in many of its elements".
"A very very small number of people have changed the newspaper industry so they've now frankly besmirched the name of every journalist in the country."
Campbell says he was on the same journalism training scheme as our own Nick Davies. A contrast from Paul McMullan, who yesterday took much delight in pointing out he was on the same training scheme as Michael Gove.
Campbell on his leaked statement: "My concern was that my final statement had been leaked. It's clear that Mr Staines got hold of a draft."
He admits sending the draft to people in advance, including people in the media, but is confident that none of the people he sent it to would have leaked it to the Guido Fawkes blog.
It would be the first time this has happened and highly significant. Davies is asking for 20-30 minutes of questioning time. Jonathan Caplan QC, counsel for Associated Newspapers, has just asked for the same.
Lord Justice Leveson is non-committal, saying in principle he's minded to allow it, but will return to it later today.
First question Alastair Campbell should be asked by Leveson: "Did you leak your witness statement to journalists?"
Second question Alastair Campbell should be asked by Leveson "To how many journalists did you email your statement?"
Lewis is thought to have a second witness statement that is highly controversial. He was not able to complete his testimony last week after it was challenged by Jonathan Caplan QC, counsel for Associated Newspapers, and other barristers.
The woman, who was arrested in Northumbria at 6.35am, becomes the 17th arrest by Operation Weeting.
A former journalist at the Daily Mirror, Sunday Mirror and Today, Campbell has criticised newspapers for spinning newspapers more effectively than any publicist could. He is expected to discuss relations with Fleet Street's most powerful editors, including Paul Dacre and Rebekah Brooks, during his evidence this morning.
Also up today is Alec Owens, a retired policeman with 30 years experience, who led the information commissioner's 2003 investigation into the use of illegally-obtained information by newspapers.
Please note comments have been switched off for legal reasons.
http://www.guardian.co.uk/media/blog/2011/nov/30/leveson-inquiry-alastair-campbell-live?CMP=twt_gu