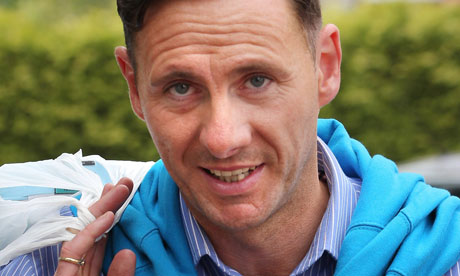 Glenn Mulcaire, the private investigator at the centre of the
News of the World
phone-hacking affair, is suing the now defunct tabloid's publisher
News International
in an attempt to force the company to pay his legal bills.
Mulcaire's action comes after the company, part of
Rupert Murdoch
's News Corporation, announced on 20 July it would stop paying his legal costs with immediate effect.
It emerged earlier this week that News International has paid "approximately £246,000" to lawyers acting for Mulcaire.
He has issued a high court writ claiming News Group
Newspapers
, the News International subsidiary that published the News of the World until last month, has a contractual obligation to pay the legal bills he is running up fighting more than a dozen high court cases being brought by public figures. The company received the writ on Wednesday.
Mulcaire is named as a defendant in numerous cases, including those being fought by Steve Coogan and Labour MP Chris Bryant, along with News Group Newspapers.
It was Mulcaire who is alleged to have routinely hacked into messages left on mobile phones on the instructions of senior figures at the News of the World.
He has already served a jail sentence for illegally intercepting messages left on phones belonging to members of the royal household.
News International confirmed it had received the writ but had no further comment.
James Murdoch
, who has managerial responsibility for News International as News Corp's deputy chief operating officer, told MPs on the Commons culture, media and sport select committee in July that he was surprised when he was told the company was meeting Mulcaire's legal costs and said he would end that arrangement.
Mulcaire was employed on a rolling 12-month contract by News International and it was reviewed on an annual basis. That was cited by the company as the reason it awarded him a payoff despite the fact he had been arrested for phone hacking in 2006, at which point his relationship with the company ended.
James Murdoch told MPs he was "very surprised" to learn the company was meeting the private investigator's legal costs.
Following Murdoch's 20 July comments, Mulcaire's solicitors Payne Hicks Beach wrote to News International to inform the company it was still legally liable to pay for a high court appeal he was fighting.
Mulcaire's appeal was against an order forcing him to identify who at the News of the World ordered him to hack into mobile phones.
http://www.guardian.co.uk/media/2011/aug/18/phone-hacking-glenn-mulcaire?CMP=twt_gu