Sun's former head of features sues News Corp execs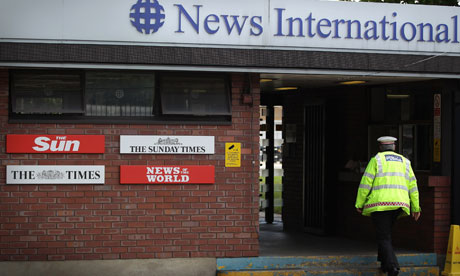 The Sun
's

former head of features, who was sacked in July, is suing News Group
Newspapers
and four members of the
News Corporation
team investigating phone hacking for wrongful dismissal and breach of contract.
Matt Nixson is suing his former employer, News Corp executives Will Lewis and Simon Greenberg, the media group's chief lawyer Jeffrey Palker, and Lord Grabiner QC, the independent chairman of its management and standards committee, for more than £100,000 in damages.
In documents filed at the high court, seen by MediaGuardian, Nixson denies any involvement in unlawful activity and claims News Corp's independent management and standards committee does not have the power to sack News Group employees. News Group is a subsidiary of News International, which is owned by News Corp.
Nixson said in the claim form that a full disciplinary hearing would have exonerated him of any allegations of wrongdoing.
Nixson filed a separate employment tribunal complaint against News Group for unfair dismissal in September. That tribunal is understood to be on hold while the high court legal action proceeds.
The former Sun head of features is seeking damages of more than £100,000, which incorporates 12 months' salary plus additional benefits. The document states that Nixson will face difficulty in finding alternative employment "given the stigma attached to his dismissal and the imputation that he was involved in or otherwise associated with the phone-hacking activities or other criminal newsgathering activities of the News of the World".
Nixson was abruptly sacked at a meeting with the Sun's managing editor, Richard Caseby, and Derrick Crowley, the HR director at News Group, on 21 July.
The high court claim form says Nixson was not provided with any reason for his dismissal at the meeting, but that the decision had been taken by the management and standards committee following the discovery of emails relating to the journalist's time at the News of the World which were "of interest to the police in their investigations". However, Nixson was not told what was in the emails.
In a letter to Nixson two days later, News Group confirmed that he had been dismissed for gross misconduct over the discovery of "what we believe to be direct evidence of criminal conduct".
Nixson has consistently denied any wrongdoing. The claim form states: "[Nixson] has never knowingly been involved in any unlawful activity relating to phone-hacking or in any other criminal newsgathering activity.
"In particular, he has never intercepted voicemail, email or text messages himself, or conspired with anybody else to intercept voicemail, email or text messages (whether expressly or implicitly), and has never received or used information that he knew or had reason to believe was obtained from intercepted voicemail, email or text messages."
News International declined to comment.
http://www.guardian.co.uk/media/2011/nov/17/phone-hacking-news-corp?CMP=twt_gu