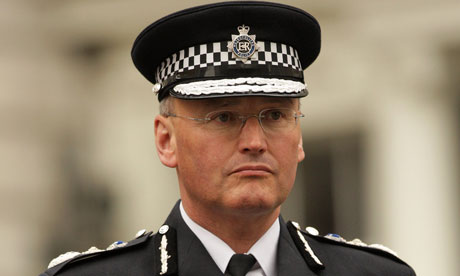 Here is what Ed Miliband is going to say in his speech later this morning about extending the sitting of parliament for an extra day.
Rebekah Brooks has been arrested, the Metropolitan police commissioner has resigned, tomorrow we will have some of the most important select committee hearings in modern times and the prime minister has decided to leave the country, not to return until after parliament breaks up for summer.




In these circumstances the right and responsible thing for the government to do must be to extend the parliamentary session for at least 24 hours so the House of Commons meets on Wednesday. It would give MPs have the chance to debate the issues arising from the select committee hearings and ensure the prime minister answers the many unanswered questions that he faces.




Unless the government agrees to parliament meeting on Wednesday, MPs cannot do their jobs properly and the prime minister has no chance of sorting out this crisis.
Brian Coleman, a Conservative member of the London assembly, has called upon John Yates to resign from the Met. Coleman has just put out this statement.
The commissioner has done the right thing by resigning, and accepting the error of judgement in employing Neil Wallis. [Assistant commissioner] Yates, who has shown that his stewardship of the original hacking enquiry was to put it bluntly, inept, should go, and go now. Sir Paul has set the example to follow. Until Yates has resigned and left Scotland Yard for the last time, the Metropolitan Police cannot hope to move on and restore confidence.
Ed Miliband is calling for parliament to sit on Wednesday, according to Sky, so that MPs can discuss the issues raised by tomorrow's culture committee hearing with Rupert and James Murdoch. At the moment tomorrow is meant to be the last sitting day before the summer recess.
David Cameron is in South Africa, where he is about to give a press conference with the president, Jacob Zuma.
http://www.guardian.co.uk/media/blog/2011/jul/18/phone-hacking-scandal-live-coverage#block-13